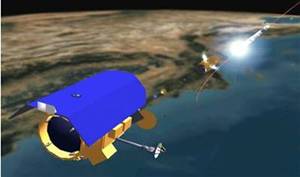 MDA may delay the June 2006 launch of the Near Field Infrared Experiment (NFIRE) to add a classified payload—a payload that sounds suspiciously like the kill vehicle MDA promised to remove.
The Washington AeroSpace Briefing ("NFIRE Tea Leaves" WAB 2:34, 3 May 2005) lays it down:
Air Force Lt. Gen. Henry "Trey" Obering, head of the Missile Defense Agency (MDA), told an audience of about 100 people at a National Defense University Foundation breakfast April 28 the launch of NFIRE would not take place until 2007 or 2008. He also appeared to imply that a controversial kill vehicle payload that was canceled last summer due to technical risk could be reinstated.
This is serious stuff. While the Rest of world is being de-esculated on WMD, the US is moving full stream ahead with their own agenda of trying to Police the world (?) ..
I dunno ..thats the way it looks to me !!
via : ArmsWonk